Bond Arms Snakeslayer Original 410/45lc 3.5"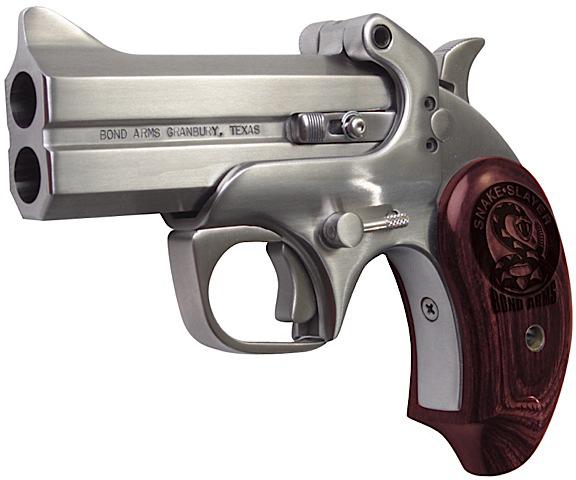 | | |
| --- | --- |
| Available | At Warehouse |
| Restricted | |
Bond Arms Snakeslayer Original 410/45LC 3.5" 2rd Ext Custom Rose Grip SS
This is the original Snake Slayer which is the ultimate concealable .410 shotshell/.45Colt pistol for people that need a larger grip. The extended grip provides extra comfort without detracting from concealability. The Snake Slayer has the 3.5" dual caliber .410/45LC barrel chambered for the 3" shot shell, comes with a removable trigger guard and will accept any of the barrels offered.
Item Info
| | |
| --- | --- |
| Item | 789-2 |
| UPC | 855959001161 |
| Brand | Bond Arms |
| Model | Snake Slayer |
| Mfg No | BASS |
| Caliber | .45 Colt/.410 |
Tech Specs
| | |
| --- | --- |
| Type | Derringer |
| Action | Break Open |
| Barrel Length | 3.5" |
| Capacity | 2 |
| Safety | Crossbolt |
| Grips | Extended Custom Rosewood |
| Sights | Blade Front, Fixed Rear |
| Weight | 22 oz |
| Metal Finish | Stainless |
| Stock Material | Rosewood |
| OAL | 5.5" |
| Stock Finish | Satin |
| Stock Type | Pistol Grip |
| Purpose | Personal Protection |
| Series | Model BASS Snakeslayer Derringer |
| Product Model | Snake Slayer |
| Finish | Stainless Steel |
| Stock | Extended Rosewood Grip |
| Overall Length | 5.5 |
| Features | Spring Loaded Extractor/ Removable Trigger Guard |